Vinyl Made Easy.
Unbeatable
Pricing
Vinyl for everyone!Pressing records shouldn't break the bank. We're on a mission to bring you the best possible prices, so you can get your vinyl out there.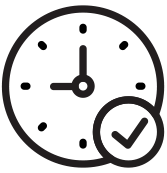 Efficient
Turnaround
As little as 14 weeks! That's right — Get your order in your hands in as little as 14 weeks, from the time we have your music, artwork and payment. No more 6 month wait times.

Small
Runs
Starting at only 100! Have a small release you want pressed? Or maybe a special edition re-release or tour vinyl? Now it's possible with very affordable small runs!

Download
Cards
We host, they download. All orders of 250 and up come with free download cards for your buyers, so they can listen to your music on the go.